Welcome
The Kripke Center is dedicated to facilitating scholarly activity in the areas of religion and society. Special attention is given to promoting understanding between and among faith communities, including especially Judaism, Christianity, and Islam. The Kripke Center's primary audience is the academic community, but its scholarship and services are available to all who seek them.
The Center is named in honor of Rabbi Myer and Dorothy Kripke.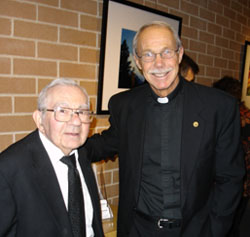 Read more about about the Center.
The Kripke Center is directed by:
Ronald A. Simkins, Ph.D.
rsmkns@creighton.edu
(402) 280-2504
Announcements
Creighton faculty interested in religion and society are invited to become Faculty Associates of the Kripke Center. For more information, see the Faculty Associate Profile.
Applications for the Kripke Center Grants are accepted each month. For details, see Research Grants.
Coming Events
February 16–17: Religion in the Public Square
For more information, go to Center Events.