Coming Events
November 14, 2017
Violence, White Supremacy, and #Charlottesville: Can We Learn Anything from the Ethics of War?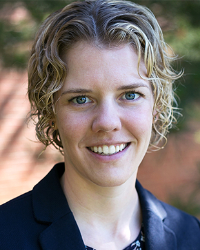 Many people were shocked and saddened by the violence that came out of the "Unite the Right" rally in Charlottesville, Virginia on August 11 and 12, 2017. Dr. Laura Alexander's talk asks what sorts of violence or threats of violence were present, whether the violence was sanctioned (police presence) or unsanctioned (street brawling), and how we might sort out and understand the various uses of violence or threat of violence in a chaotic protest situation. The lecture draws on principled ethical thinking about the use of force in the context of war in order to examine how violence, if present in a protest situation, might be used to promote safety and well-being rather than to intimidate or unjustly harm. In addition to consideration of violence in general, it will engage concerns about the intersection of violence and speech when weapons, shields, and other means of using force are incorporated into protests.
Laura Alexander is Assistant Professor of Religious Studies at UNO and holds the Goldstein Family Community Chair in Human Rights. She received her Ph.D. from the University of Virginia and left Charlottesville to come to Omaha less than a week before the August 11-12 protests. Dr. Alexander studies ethical thinking about religion and human rights, with a focus on issues of just war, peacemaking, and refugee issues.
Dr. Alexander's talk will take place on Tuesday, November 14 at 3:30 p.m. in Harper Center 3023.
---
February 15-16, 2018
Religion and Reform
In commemoration of the 500th anniversary of the Reformation, the annual Kripke Symposium will address the mutibility of religion
Although ostensiblity of divine inspiration, religions are not immutable; they have changed in significant ways due to historical, economic, social, and political circumstances and causes. Some changes have been intentional, some have been compelled on the religion and necessary for survival, and others have not even been noticable except from historical perspective. This symposium will address the many ways in which religion has changed, is changing, and perhaps needs to change, and their particular causes. Proposals addressing the topic from a broad range of disciplines and focusing on diverse religious traditions are encouraged.
The symposium will take place Thursday–Friday, February 15-16, in Harper Center 3023, from 8:30 a.m. to 5:00 p.m. The schedule for the symposium will be posted around the beginning of the new year.
---