Coming Events
February 13, 2017
Panel Discussion on Martin Scorsese's Film, Silence
Three scholars will analyze and discuss the religious themes of Silence. The panelists are:
Fr. Peter Nguyen, S.J., Theology Department, Creighton University
Lydia Cooper, English Department, Creighton University
Fr. Mark Bosco, S.J., English and Theology Deparments, Loyola University of Chicago
The panel discussion will take place on Monday, February 13, 2017 at 6:00 p.m. in the Reinert Memorial Library L02. The panel discussion is co-sponsored by the Honors Program.
---
February 16-17, 2017
Religion in Global Context
Central to global issues and globalization is the breaking down of boundaries (and barriers), whether they be religious, national, ethnic, ecological, economic, technological, or others. This symposium will address how religion affects and is affected by a wide range of global issues and globalization, historically and in the present. Global issues that may be considered include economic inequality and justice, the environment and the anthropocene, migration and immigration, refugees, interfaith dialogue and relations, identity and assimilation, among many other possibilities.
The schedule of the symposium, including the titles of the presentations, can be found here.
The symposium will take place from 8:30 – 5:00 on Thursday and Friday, February 16-17, in the Harper Center 3029. The symposium is open to the public.
---
April 4, 2017
Embodying Eucharist: Gender, Race, and Body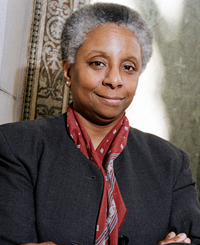 The Woman and Religion lecture will be delivered by M. Shawn Copeland, Professor of Theology, Boston College.
Professor Copeland's research interests converge around issues of theological and philosophical anthropology and political theology, as well as African and African–derived religious and cultural experience and African-American intellectual history.
She is the author of three books: Enfleshing Freedom: Body, Race, and Being (Fortress Press, 2010); The Subversive Power of Love: The Vision of Henriette Delille: The Madeleva Lecture in Spirituality (Paulist Press, 2009); and, with LaReine-Marie Mosely and Albert Raboteau, Uncommon Faithfulness: The Black Catholic Experience (Orbis Books, 2009). She has authored more than 80 articles, book chapters, and reviews.
Professor Copeland's lecture will be given on Tuesday, April 4, at 5:00 p.m. in the Harper Center Ballroom. This lecture is co-sponsored by the Women and Gender Studies Program.
---