Recorded Lectures
October 4, 2018
The Bible, Politics, and the Survival of Planet Earth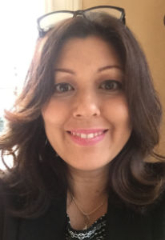 The Bible has played a role in some political debates over climate change, where it has been read to suggest that belief in human induced climate change is a rejection of God's omnipotence. This talk will examine the biblical texts that pertain to the climate and humans' relationship to the earth to show alternative interpretations on the issue, raising important questions about whether the Bible should be used to influence public policy in our democracy.
Frances Flannery is Professor of Religion at James Madison University. She earned her Ph.D. in Religion at The University of Iowa, concentrating on the origins of apocalypticism in early Judaism and early Christianity. Her research on apocalyptic thought and movements extends from antiquity to the present day, with a focus on the intersections of apocalyptic thinking with environmental issues and terrorism. Her books include Understanding Apocalyptic Terrorism: Countering the Radical Mindset (Routledge, 2015) and an edited volume with Rodney Werline, The Bible In Political Debate (Bloomsbury, 2016). She regularly shares her research with the intelligence community and is also an activist in community peacebuilding, interfaith dialogue, and public education about religions and the academic study of religion.
The talk by Prof. Flannery will take place on Thursday, October 4, in Harper Center 3028 at 4:00 p.m. It is free and open to the public.
Listen to Prof. Flannery's lecture here.
---
April 9, 2018
Revisiting Tamar: Violence against Women and the Church's Response in the #MeToo Era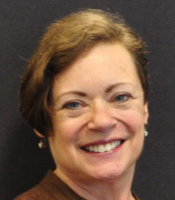 The biblical story of Tamar, the daughter of King David, with a few tweaks could be today's latest #MeToo headline - a vulnerable young woman is assaulted by a man in power and told to hush up the crime; as events unfold, the king laments the downfall of her perpetrator without acknowledging her trauma. What are the enduring dynamics of violence against women from the Bible to today, and what is the church's role in intervention and prevention in the #MeToo era?
Pamela Cooper-White is the Christiane Brooks Johnson Professor of Psychology & Religion at Union Theological Seminary in New York. She has advanced degrees in historical musicology, religion, and clinical social work.
Dr. Cooper-White's research interests have centered on feminist/Womanist theology and the prevention of violence against women; countertransference, intersubjectivity, and the use of the self in pastoral care and psychotherapy; the intersection of pastoral theology and postmodern relational psychoanalysis; and the history of early psychoanalysis and religion. She is the author of 5 books, Braided Selves: Collected Essays on Multiplicity, God, and Persons; Many Voices: Pastoral Psychotherapy and Theology in Relational Perspective; Shared Wisdom: Use of the Self in Pastoral Care and Counseling; The Cry of Tamar: Violence Against Women and the Church's Response; Schoenberg and the God Idea: The Opera 'Moses und Aron' ; as well as Explorations in Practices of Ministry, co-authored with Michael Cooper-White.
Dr. Cooper-White is an accomplished professional soloist, an ordained Episcopal priest, a certified clinical Fellow in the American Association of Pastoral Counselors, a Licensed Clinical Professional Counselor in Illinois, and a Board Certified Counselor in the National Board for Certified Counselors.
Dr. Cooper-White's talk will be Monday, April 9, at 6:30 p.m. in Harper 3023. Her talk is co-sponsored by the Women and Gender Studies program; the talk is free and open to the public.
Listen to Dr. Cooper-White's lecture here.
---
June 25, 2017
Luther and the Jews: Responsibility and Reconciliation
In commemoration of the 500th anniversary of the Protestant Reformation, we will explore Martin Luther's relationship to the Jews, its implications, and recent responses from Lutheran communities.
Set within the framework of dialogue and discussion, Professors Dean Bell and Peter Pettit will present their respective understandings of Luther's anti-Semitism within historical and contemportary context. Each professor will give a brief presentation, followed by dialogue and discussion with and among the audience.
Dean Bell is Provost, Vice President, and Professor of History at Spertus Institute for Jewish Learning and Leadership. He is a scholar of medieval and early modern Jewish history, especially in Germany.
Peter Pettit is Associate Professor of Religion Studies and Director of the Institute for Jewish-Christian Understanding at Muhlenberg Collge. He is a leader in Jewish-Christian dialogue, and a scholar of biblical studies, theology, and Israel studies.
Listen to Dean Bell's lecture here, and Peter Pettit's lecture here
---
April 4, 2017
Embodying Eucharist: Gender, Race, and Body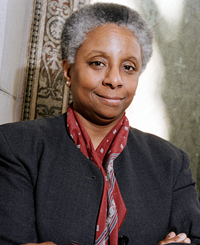 The Woman and Religion lecture will be delivered by M. Shawn Copeland, Professor of Theology, Boston College.
Professor Copeland's research interests converge around issues of theological and philosophical anthropology and political theology, as well as African and African–derived religious and cultural experience and African-American intellectual history.
She is the author of three books: Enfleshing Freedom: Body, Race, and Being (Fortress Press, 2010); The Subversive Power of Love: The Vision of Henriette Delille: The Madeleva Lecture in Spirituality (Paulist Press, 2009); and, with LaReine-Marie Mosely and Albert Raboteau, Uncommon Faithfulness: The Black Catholic Experience (Orbis Books, 2009). She has authored more than 80 articles, book chapters, and reviews.
Listen to her lecture here.
---
November 2, 2016
Jesuit Education for Sustainability
Professor Kathleen Smythe of Xavier University will deliver the 2016 Religion and the Environment lecture.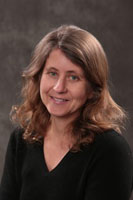 Professor Smythe is an African historian with years of fieldwork experience in Tanzania, East Africa, which resulted in her first book, Fipa Families (2006), and a series of related articles that examined the ways in which Fipa integrated and made sense of European Catholic missionaries and their values during the colonial period.
For more than a decade, she has worked in globalization and economic development, addressing such complex challenges as the viability of the planet's ecosystems, the viability of the current and projected human populations, and the viability of economic systems focused primarily on production and consumption with little grounding in either biophysical or social and cultural realities. Her work is presented in a second book manuscript, Why We Need African History, A Continent's Past and Our Future, under review at Indiana University Press.
Recently, in a new book manuscript, she has turned to the Anthropocene. She is examining what we need to know about deep human history in order to explain this phenomenon and then respond intelligently to it.
She has been actively engaged with sustainability efforts at Xavier and now serves as Senior Administrative Fellow for Sustainability and the Environmental Imagination.
Listen to her lecture here.
---
April 12, 2016
What Can Christians Learn about the New Testament from Jews?
Rabbi David Fox Sandmel will address what Christians can learn about the New Testament from Jews.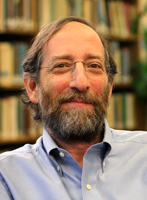 Rabbi Sandmel, a scholar of Jewish-Christian relations and interfaith activist, has served as Director of Interfaith Affairs at the Anti-Defamation League since 2014. From 2003-2014, he held the Crown-Ryan Chair in Jewish Studies at the Catholic Theological Union in Chicago. Rabbi Sandmel earned his doctorate in Religious Studies at the University of Pennsylvania. He received his Rabbinic Ordination and Masters in Hebrew Literature from the Hebrew Union College-Jewish Institute of Religion in Cincinnati. He holds a B.A. in Jewish Studies from Ohio State University. He was the Judaic Scholar at the Institute for Christian & Jewish Studies in Baltimore, where he managed the project that produced "Dabru Emet: A Jewish Statement on Christians and Christianity." He is an editor of Christianity in Jewish Terms and Irreconcilable Differences? A Learning Resource for Jews and Christians. His commentary on First Thessalonians appears in The Jewish Annotated New Testament.
Listen to his lecture here.
---
September 10, 2015
The Climate Encyclical: Global Ethics in the Age of Humans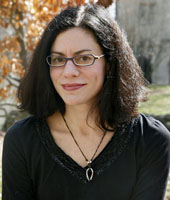 Dr. Lisa Sideris of Indiana University will present a talk on Pope Francis' new encyclical on the environment for the center's Religion and the Environment lecture series.
Professor Sideris' research broadly focuses on the intersection of religion, science, and environmental ethics. She addresses how religious environmental thought incorporates, or fails to incorporate, knowledge gained from the natural sciences, particularly evolutionary theory and ecology. She is the author of Environmental Ethics, Ecological Theology, and Natural Selection (Columbia, 2003), and co-editor of Rachel Carson: Legacy and Challenge (SUNY, 2008). Her recent research is on the role of wonder and enchantment in (and with) science, nature, and religion, and the variety of ways in which scientific narratives, particularly those involving evolution, are being "re-enchanted" and recast as mythopoeic stories with moral content.
Listen to her lecture here.
---
April 23, 2013
The Aryan Jesus in Nazi Germany: The Bible and the Holocaust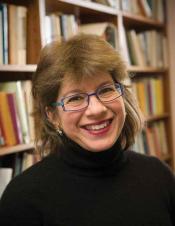 Susannah Heschel is the Eli Black Professor of Jewish Studies at Dartmouth College. Her scholarship focuses on Jewish-Christian relations in Germany during the 19th and 20th centuries, the history of biblical scholarship, and the history of anti-Semitism. Her numerous publications include Abraham Geiger and the Jewish Jesus (University of Chicago Press), which won a National Jewish Book Award and Germany's Geiger Prize, and The Aryan Jesus: Christian Theologians and the Bible in Nazi Germany (Princeton University Press). She is the author of over seventy articles and has edited several books, including Betrayal: German Churches and the Holocaust (with Robert P. Ericksen).
Listen to her lecture here. See her lecture on You-Tube Here.
---
March 26, 2012
All About Eve: The Last Word on the First Lady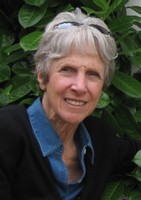 Professor Carol Meyersholds the Mary Grace Wilson Professorship in Religion at Duke University, where she has taught since 1977. A specialist in biblical studies and archaeology, she is a prominent scholar in the study of women in the biblical world. She has authored or co-authored eleven books and has edited or co-edited five others. With Eric Meyers, she has published three major archaeological reports and is working on several more. Her book Discovering Eve is a landmark study of women in ancient Israel; and her recent reference book, Women in Scripture, is the most comprehensive study ever made of women in Jewish and Christian scriptures.
You can listen to her lecture here.
---
March 14, 2012
Roots of the Conflict between Religion and Evolutionary Theory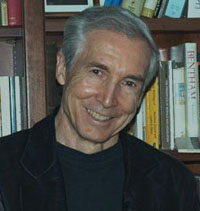 Robert Richards is the Morris Fishbein Distinguished Service Professor of the History of Science and Medicine at the University of Chicago. He is also the Director of the Fishbein Center for the History of Science and Medicine. His research is in the history and philosophy of psychology and biology, which includes particular interest in evolutionary theory, biopsychology, ethology, and sociobiology. He has written several books, including The Tragic Sense of Life: Ernst Haeckel and the Struggle over Evolutionary Thought (2008), The Romantic Conception of Life: Science and Philosophy in the Age of Goethe (2002), and The Meaning of Evolution: The Morphological Construction and Ideological Reconstruction of Darwin's Theory (1992). He is currently working on a historical and philosophical commentary on Darwin's Origin of Species.
You can listen to his lecture here.
---
November 2, 2011
From the King James Bible to Biblezines: The History of a Cultural Icon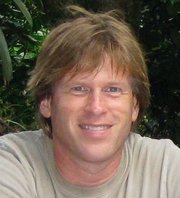 Timothy Beal is the Florence Harkness Professor of Religion at Case Western Reserve University. He has published twelve books and many scholarly articles on the cultural history of the Bible, religion and popular culture, and relations between critical theory and academic religious studies. Two notable recent books include Biblical Literacy: Essential Bible Stories Everyone Needs to Know (2009) and The Rise and Fall of the Bible: The Unexpected History of an Accidental Book (2011). He has also published essays on religion and American culture for The New York Times, The Chronicle of Higher Education, The Washington Post, The Huffington Post, and The Cleveland Plain Dealer. He has been featured on national radio shows including NPR's All Things Considered and The Bob Edwards Show.
Professor Beal will give his lecture on Wednesday, November 2 at 4:00 p.m. in the Harper Center Ballroom You can listen to his lecture here.
---
September 22, 2011
Why Care for the Earth?: Ten Good Reasons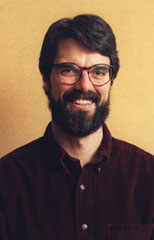 Steven Bouma-Prediger is Professor of Religion and Director of the Environmental Studies Program at Hope College. He has written four books concerning ecology and theology. His most recent, For the Beauty of the Earth, won an Award of Merit from Christianity Today in the theology/ethics category of the magazine's 2002 Book Awards program. In December of 2000, his book Evocations of Grace: Writings on Ecology, Theology, and Ethics, which he co-edited with Peter Bakken, was one of only five books named editor's picks book of the year by Christian Century. His other books are The Greening of Theology: The Ecological Models of Rosemary Radford Ruether, Joseph Sittler, and Jurgen Moltmann and, with Virginia Vroblesky, Assessing the Ark: A Christian Perspective on Nonhuman Creatures and the Endangered Species Act.
Listen to the lecture here.
---
March 22, 2011
The Unfinished Agenda: Womanist Contributions and Struggles for Inclusion in the Churches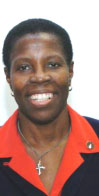 Sr. Phelps is Professor of Systematic Theology and Director of the Institute for Black Catholic Studies of Xavier University of Louisiana. She has edited two books, Black Catholic: The Challenge and Gift of Black Folk and Stamped in the Image of God: African Americans as God's Image in Black, and has published more than 50 theological articles on issues of the mission of the Church, evangelization, inculturation, Christology, and spirituality.
---
March 15, 2011
The Nature of Humans and the Sanctity of Nature: Why the Dualism-Physicalism Debate Matters for the Environment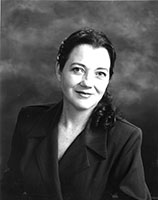 Nancey Murphy is Professor of Christian Philosophy at Fuller Theological Seminary, Pasadena, CA. Her first book, Theology in the Age of Scientific Reasoning (1990) won the American Academy of Religion award for excellence. Most recently she co-edited Downward Causation and the Neurobiology of Free Will (2009). Other recent books include include: Did My Neurons Make Me Do It? Philosophical and Neurobiological Perspectives on Moral Responsibility and Free Will (co-authored with Warren Brown, 2007); Physics and Cosmology: Scientific Perspectives on the Problem of Natural Evil (co-edited with Robert Russell and William Stoeger, SJ, 2007); Evolution and Emergence: Systems, Organisms, Persons (co-edited with William Stoeger, SJ, 2007); and Bodies and Souls, or Spirited Bodies? (2006).
---
October 6, 2010
A Little Good News for a Change: The Promises of Religious Environmentalism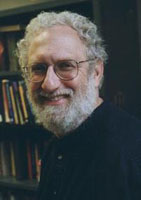 Roger S. Gottlieb is professor of philosophy at Worcester Polytechnic Institute. He is the author or editor of fourteen books and more than 100 articles on political philosophy, environmentalism, ethics, religion, spirituality, the Holocaust, and disability. For the last fifteen years Gottlieb has concentrated on the political, ethical, and religious dimensions of the environmental crisis and on the broad social and normative connections between religion and politics. His anthology This Sacred Earth: Religion, Nature, Environment (2003) is known internationally as the first comprehensive collection on the topic. is recent work on religious environmentalism, A Greener Faith: Religious Environmentalism and our Planet's Future (2006) and Oxford Handbook on Religion and Ecology (2006) establishes him as the leading analyst of this unprecedented political, environmental, and religious movement.
---
March 18, 2010
Green Sisters: Women Religious, Earth Justice, and Spiritual Ecology
Sarah McFarland Tayloris an Associate Professor of Religious Studies at Northwestern University, specializing in the study of religion and American culture, religion and ecology, and women's studies in religion. Her first book, Green Sisters: A Spiritual Ecology (Harvard, 2007), was the winner of the Catholic Press Association's First Prize for Best Book on Gender Issues and also the Association's First Prize for Best Book on Social Concerns. She has published numerous articles on various topics related to the "greening' of American religion, and is under contract for her second book on the religious dimensions of the "green burial movement" (ecologically friendly death planning which promotes low-impact, environmentally sound ways to "recycle" human remains). She has also received numerous fellowships and awards for her scholarship.
Hear her lecture online here.
---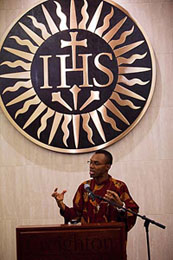 January 19, 2010
Religion and Conflict in Africa
Fr. Agbonkhianmeghe E. Orobator, SJ., is the new Provincial of the East African province. He has published numerous articles and written several books, including most recently, Theology Brewed in an African Pot (2008) and Faith Doing Justice: A Manual for Social Analysis, Catholic Social Teachings and Social Justice (2007).
Listen to Fr. Orobator's talk here.
---
April 14, 2009
Ethics, Empathy, and Wonder: Rachel Carson's Environmental Legacy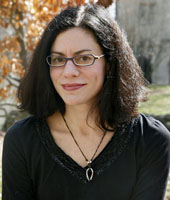 Lisa Sideris is Professor of Religin at Indiana University. Her research broadly focuses on the intersection of religion, science, and environmental ethics. She addresses how religious environmental thought incorporates, or fails to incorporate, knowledge gained from the natural sciences, particularly evolutionary theory and ecology. She is the author of Environmental Ethics, Ecological Theology, and Natural Selection (Columbia, 2003). Her recent research is on the legacy of Rachel Carson's work.
Listen to Dr. Sideris' talk here.
---
October 27, 2010
Contested Measures of Humanity in African Suffering and Healing
John M. Janzen, Professor of Medical Anthropology at the University of Kansas, gave the keynote lecture for the Kripke Center's symposium on Religion, Health, and Healing. Prof. Janzen is known for his seminal work on healing and religion in Central Africa.
The symposium volume, with Prof. Janzen's paper, is published here. Listen to his keynote address here.