Coming Events
February 18-19, 2016
Symposium on Religion and Politics
This symposium will bring together scholars from Creighton and around the country to address the many ways in which religion and politics intersect. The papers will address theoretical and historical issues, as well as a wide range of contemporary issues such as the environment and climate change; the role of religion in political reform; the religious "nones" and secularization; Gay marriage; income inequality, poverty, and the "safety-net"; changing religious demographics; political Islamism; religious freedom and persecution; and other issues.
The schedule of the symposium, including the titles of the presentations, can be found here.
The symposium will be held February 18-19 in Harper Center 3029, 8:30 a.m. – 5:30 p.m.
---
April 7-8, 2016
Augustine in Christian Thought, Life, and Practice
Scholars from around the world will gather to present their scholarship on Augustine in memory of Fr. William Harmless, S.J. The papers of the symposium will be published in the Journal of Religion & Society's supplement series as a memorial to honor the life and work of Fr. Harmless.
The symposium will take place from 8:30 – 5:00 on Thursday and Friday, April 7-8, in the Harper Center 3029. The symposium is open to the public.
---
April 12, 2016
Can Christians Learn about the New Testament from Jews?
Rabbi David Fox Sandmel will address what Christians can learn about the New Testament from Jews.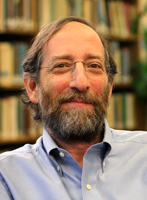 Rabbi Sandmel, a scholar of Jewish-Christian relations and interfaith activist, has served as Director of Interfaith Affairs at the Anti-Defamation League since 2014. From 2003-2014, he held the Crown-Ryan Chair in Jewish Studies at the Catholic Theological Union in Chicago. Rabbi Sandmel earned his doctorate in Religious Studies at the University of Pennsylvania. He received his Rabbinic Ordination and Masters in Hebrew Literature from the Hebrew Union College-Jewish Institute of Religion in Cincinnati. He holds a B.A. in Jewish Studies from Ohio State University. He was the Judaic Scholar at the Institute for Christian & Jewish Studies in Baltimore, where he managed the project that produced "Dabru Emet: A Jewish Statement on Christians and Christianity." He is an editor of Christianity in Jewish Terms and Irreconcilable Differences? A Learning Resource for Jews and Christians. His commentary on First Thessalonians appears in The Jewish Annotated New Testament.
Rabbi Sandmel's lecture will be given Tuesday, April 12 at 6:00 p.m. in Harper Center 3028. The lecture is free and open to the public
---