The Virtual World Project presents interactive virtual tours of archaeological sites in Israel, Palestine, and Jordan. The project is designed to aid in the teaching and study of antiquity.
The virtual tours are constructed from a series of 360-degree panoramic and spherical images that are linked together to cover an entire site. Simply drag the cursor across the image to rotate the view.
Choose a site to tour from the menus above.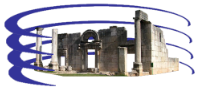 The Virtual World Project has a threefold purpose:
Technological: Create interactive virtual tours of the ancient world (Israel, Palestine, and Jordan) using the best available computer technologies;
Pedagogical: Provide a resource for scholars and teachers across a variety of disciplines related to the ancient world;
Conservational: Provide a visual database of the material remains of the ancient world as they presently exist.