2016–2017
June 25, 2017
Luther and the Jews: Responsibility and Reconciliation
In commemoration of the 500th anniversary of the Protestant Reformation, we will explore Martin Luther's relationship to the Jews, its implications, and recent responses from Lutheran communities.
Set within the framework of dialogue and discussion, Professors Dean Bell and Peter Pettit will present their respective understandings of Luther's anti-Semitism within historical and contemportary context. Each professor will give a brief presentation, followed by dialogue and discussion with and among the audience.
Dean Bell is Provost, Vice President, and Professor of History at Spertus Institute for Jewish Learning and Leadership. He is a scholar of medieval and early modern Jewish history, especially in Germany.
Peter Pettit is Associate Professor of Religion Studies and Director of the Institute for Jewish-Christian Understanding at Muhlenberg Collge. He is a leader in Jewish-Christian dialogue, and a scholar of biblical studies, theology, and Israel studies.
The presentations and dialogue will take place on Sunday, June 25, from 2:00 to 4:00 p.m. at Beth El Synagogue (14506 California St. in Omaha). The event is free and open to the public.
---
April 4, 2017
Embodying Eucharist: Gender, Race, and Body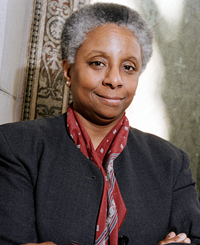 The Woman and Religion lecture will be delivered by M. Shawn Copeland, Professor of Theology, Boston College.
Professor Copeland's research interests converge around issues of theological and philosophical anthropology and political theology, as well as African and African–derived religious and cultural experience and African-American intellectual history.
She is the author of three books: Enfleshing Freedom: Body, Race, and Being (Fortress Press, 2010); The Subversive Power of Love: The Vision of Henriette Delille: The Madeleva Lecture in Spirituality (Paulist Press, 2009); and, with LaReine-Marie Mosely and Albert Raboteau, Uncommon Faithfulness: The Black Catholic Experience (Orbis Books, 2009). She has authored more than 80 articles, book chapters, and reviews.
Professor Copeland's lecture will be given on Tuesday, April 4, at 5:00 p.m. in the Harper Center Ballroom. This lecture is co-sponsored by the Women and Gender Studies Program. Listen to her lecture here.
---
February 16-17, 2017
Religion in Global Context
Central to global issues and globalization is the breaking down of boundaries (and barriers), whether they be religious, national, ethnic, ecological, economic, technological, or others. This symposium will address how religion affects and is affected by a wide range of global issues and globalization, historically and in the present. Global issues that may be considered include economic inequality and justice, the environment and the anthropocene, migration and immigration, refugees, interfaith dialogue and relations, identity and assimilation, among many other possibilities.
The schedule of the symposium, including the titles of the presentations, can be found here.
The symposium will take place from 8:30 – 5:00 on Thursday and Friday, February 16-17, in the Harper Center 3029. The symposium is open to the public.
---
February 13, 2017
Panel Discussion on Martin Scorsese's Film, Silence
Three scholars will analyze and discuss the religious themes of Silence. The panelists are:
Fr. Peter Nguyen, S.J., Theology Department, Creighton University
Lydia Cooper, English Department, Creighton University
Fr. Mark Bosco, S.J., English and Theology Deparments, Loyola University of Chicago
The panel discussion will take place on Monday, February 13, 2017 at 6:00 p.m. in the Reinert Memorial Library L02. The panel discussion is co-sponsored by the Honors Program.
---
November 10, 2017
Religion and Science Forum: Genetics
The Kripke Center and the Theology Department are hosting a panel discussion addressing the relationship between religion and science by focusing on the field of genetics. The panel will consist of the following faculty:
Andrew Hogan, History Department
Charles Brockhouse, Biology Department
Todd Salzman, Theology Department
The panel will address such issues as the history of genetics from eugenics to gene manipulation, what can we do and what is possible, and the moral challenges raised by genetics. The panel will take place on Thursday, November 10, at 3:30 pm in the Hixon Lied Science Building G04.
---
November 2, 2016
Jesuit Education for Sustainability
Professor Kathleen Smythe of Xavier University will deliver the 2016 Religion and the Environment lecture.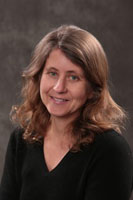 Professor Smythe is an African historian with years of fieldwork experience in Tanzania, East Africa, which resulted in her first book, Fipa Families (2006), and a series of related articles that examined the ways in which Fipa integrated and made sense of European Catholic missionaries and their values during the colonial period.
For more than a decade, she has worked in globalization and economic development, addressing such complex challenges as the viability of the planet's ecosystems, the viability of the current and projected human populations, and the viability of economic systems focused primarily on production and consumption with little grounding in either biophysical or social and cultural realities. Her work is presented in a second book manuscript, Why We Need African History, A Continent's Past and Our Future, under review at Indiana University Press.
Recently, in a new book manuscript, she has turned to the Anthropocene. She is examining what we need to know about deep human history in order to explain this phenomenon and then respond intelligently to it.
She has been actively engaged with sustainability efforts at Xavier and now serves as Senior Administrative Fellow for Sustainability and the Environmental Imagination.
Professor Smythe's lecture will be given on Wednesday, November 2, at 6:00 p.m. in Harper 3023. The lecture is free and open to the public.
---
October 31, 2016
The Word of God, Jesus Christ, and the Eucharist: Christian Hope in a Secular World
Francis J. Moloney, SDB, will lecture on the biblical basis of the Eucharist and its implications in the contemporary world.
Professor Moloney is an internationally renowned scholar and speaker who has taught in Australia, Italy, England, Ireland, Israel, New Zealand, and the USA. He has published over 50 books, and many journal articles, both scholarly and popular. He has been deeply involved in both the life of the church and the university for over 40 years and is currently a Professorial Fellow in the Faculty of Theology and Philosophy at Australian Catholic University.
Professor Moloney's lecture will be given on Monday, October 31 at 4:00 p.m. in the Skutt Student Center, room 104. The lecture is co-sponsored by the Center for Catholic Thought.
---
October 30-31, 2016
Is Judaism Democratic? Reflections from Theory and Practice Throughout the Ages
The Twenty-Ninth Annual Klutznick Symposium on Jewish Civilization is a collaboration of the Kripke Center with the Klutznick Chair in Jewish Civilization at Creighton, the Harris Center for Judaic Studies at the University of Nebraska-Lincoln, and the Schwalb Center for Israel and Jewish Studies at the University of Nebraska-Omaha.
For further information on the symposium, see the website of the Klutznick Chair in Jewish Civilization.
The proceedings of the symposium will be published in the Studies in Jewish Civilization series.