2014–2015
March 24, 2015
Adam and Eve: Returning to Eden
The annual Women and Religion lecture will be held on Tuesday, March 24 at 7:00 p.m. in the Harper Center Ballroom. This year's guest lecturer is Professor Amy-Jill Levine.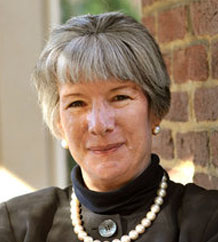 Amy-Jill Levine is University Professor of New Testament and Jewish Studies, E. Rhodes and Leona B. Carpenter Professor of New Testament Studies, and Professor of Jewish Studies at Vanderbilt Divinity School and College of Arts and Sciences. Her books include The Misunderstood Jew: The Church and the Scandal of the Jewish Jesus (HarperOne), the edited collection,The Historical Jesus in Context (Princeton), and the thirteen-volume edited series, Feminist Companions to the New Testament and Early Christian Writings (Continuum). With Marc Brettler of Brandeis University, she edited the Jewish Annotated New Testament (Oxford). She has written, with her Vanderbilt colleague Douglas Knight, The Meaning of the Bible: What The Jewish Scriptures and the Christian Old Testament Can Teach us (HarperOne); with Warren Carter of Brite Divinity School, she published in 2013 The New Testament: Methods and Meanings (Abingdon). Her most recent book is Short Stories by Jesus: the Enigmatic Parables of a Controversial Rabbi (HarperOne). Professor Levine combines historical-critical rigor, literary-critical sensitivity, and a frequent dash of humor with a commitment to eliminating anti-Jewish, sexist, and homophobic theologies.
The Women and Religion lecture will be given on Tuesday, March 24, at 7:00 p.m. in the Harper Center Ballroom. The lecture is free and open to the public.
---
March 20-21, 2015
Rocky Mountain – Great Plains Regional Meeting
The Kripke Center is hosting the annual meeting of the Rocky Mountain – Great Plains region of the American Academy of Religion and Society of Biblical Literature (along with the American Schools of Oriental Research). The conference will be held on Friday and Saturday, March 20-21 in Harper Center, third floor meeting rooms.
The conference is open to all those interested in the professional study of religion, Bible, and Near Eastern Studies.
---
February 19-20, 2015
Symposium on Religion and Identity
This symposium will bring together scholars from Creighton and around the country to address the many ways in which religion and identity interact, whether it be the formation of a specific religious identity, or the many ways in which religion contributes to or is shaped by Identity.
The schedule of the symposium, including the titles of the presentations, can be found here.
The symposium will be held February 19-20 in Harper Center 3029, 8:30 a.m. – 5:30 p.m.
---
October 24-25, 2014
U.S. Empire and Religion Seminar
The Kripke Center hosted this seminar of scholars in American religion for his second working meeting, bringing scholars from around the country to Omaha to share their research and work together on a book project.