2018–2019
October 4, 2018
The Bible, Politics, and the Survival of Planet Earth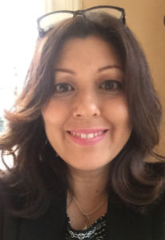 The Bible has played a role in some political debates over climate change, where it has been read to suggest that belief in human induced climate change is a rejection of God's omnipotence. This talk will examine the biblical texts that pertain to the climate and humans' relationship to the earth to show alternative interpretations on the issue, raising important questions about whether the Bible should be used to influence public policy in our democracy.
Frances Flannery is Professor of Religion at James Madison University. She earned her Ph.D. in Religion at The University of Iowa, concentrating on the origins of apocalypticism in early Judaism and early Christianity. Her research on apocalyptic thought and movements extends from antiquity to the present day, with a focus on the intersections of apocalyptic thinking with environmental issues and terrorism. Her books include Understanding Apocalyptic Terrorism: Countering the Radical Mindset (Routledge, 2015) and an edited volume with Rodney Werline, The Bible In Political Debate (Bloomsbury, 2016). She regularly shares her research with the intelligence community and is also an activist in community peacebuilding, interfaith dialogue, and public education about religions and the academic study of religion.
The talk by Prof. Flannery will take place on Thursday, October 4, in Harper Center 3028 at 4:00 p.m. It is free and open to the public.
Listen to Prof. Flannery's lecture here.
---