2018–2019
March 29-30, 2019
Rocky Mountain – Great Plains AAR/SBL Regional Meeting
The Kripke Center and Creighton University are hosting the annual regional meeting of the American Academy of Religion and the Society of Biblical Literature. The conference will be held on the third floor of the Harper Center. Further information on the conference and the region can be found on the region's website at http://wwww.rmgp.org
---
February 14-15, 2019
Religion and Justice
Within the last few years, notions of justice (and truth) have been problematized. From the veracity of political speech and "fake news" to claims that "social justice is no justice," what is just and true has become highly contested in the public square. This is particularly problematic given the central role that justice plays in many religious traditions. In addition to addressing the problematization of justice in contemporary society, this symposium will explore the many facets of justice and its relationship to religion by addressing specific forms and examples of justice. Papers may address issues of truth and deception, poverty and social justice, food and environmental justice, economic justice, or other forms of justice with historical and/or contemporary examples related to diverse religious traditions.
The symposium will take place Thursday–Friday, February 14-15, in Skutt Student Center 105, from 8:30 a.m. to 5:00 p.m.
The schedule of the symposium, including the titles of the presentations, can be found here.
---
October 4, 2018
The Bible, Politics, and the Survival of Planet Earth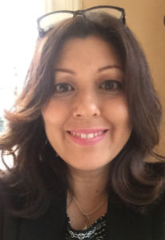 The Bible has played a role in some political debates over climate change, where it has been read to suggest that belief in human induced climate change is a rejection of God's omnipotence. This talk will examine the biblical texts that pertain to the climate and humans' relationship to the earth to show alternative interpretations on the issue, raising important questions about whether the Bible should be used to influence public policy in our democracy.
Frances Flannery is Professor of Religion at James Madison University. She earned her Ph.D. in Religion at The University of Iowa, concentrating on the origins of apocalypticism in early Judaism and early Christianity. Her research on apocalyptic thought and movements extends from antiquity to the present day, with a focus on the intersections of apocalyptic thinking with environmental issues and terrorism. Her books include Understanding Apocalyptic Terrorism: Countering the Radical Mindset (Routledge, 2015) and an edited volume with Rodney Werline, The Bible In Political Debate (Bloomsbury, 2016). She regularly shares her research with the intelligence community and is also an activist in community peacebuilding, interfaith dialogue, and public education about religions and the academic study of religion.
The talk by Prof. Flannery will take place on Thursday, October 4, in Harper Center 3028 at 4:00 p.m. It is free and open to the public.
Listen to Prof. Flannery's lecture here.
---